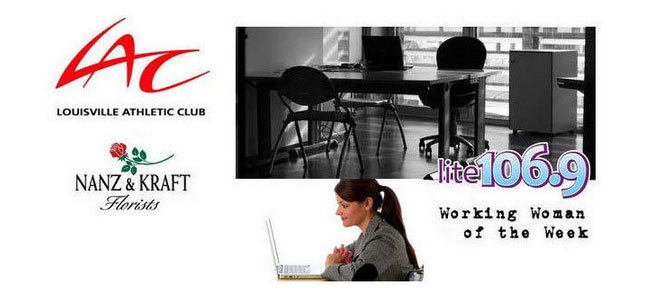 Recognize your Louisville Athletic Club "Working Woman of the Week"!
Tell us about the person you are nominating below, or fax us at (502) 589-1377.
Listen to Lite 106.9. They will unveil a new Working Woman of the Week every Friday.
Winners will receive:
* Dozen Roses from Nanz & Kraft
* 1 month free membership to Louisville Athletic Club, including 1 month unlimited access to cross fit classes (value of $69.95 per month)
Nominate YOUR Working Woman of the Week!
Tell us about that special lady in your professional life who makes such a big difference and deserves a little recognition and Lite 106.9 and Louisville Athletic Club might just send her flowers from Nanz and Kraft, along with an LAC membership!
---